USA TODAY: World overlooks Ethiopia drought crisis that is leaving millions hungry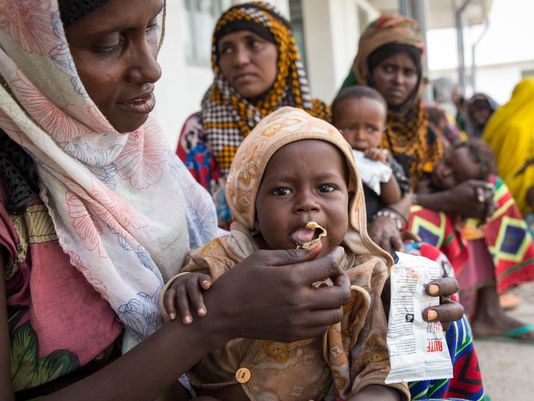 FENTALE, Ethiopia — Sitting in the blistering sun as she cradles her 2-month-old baby, Genet Tamisat is one of hundreds of mothers waiting to have their children checked for malnutrition, as Ethiopia faces its worst drought in decades.
"I have nothing to eat at home. I can't even buy maize by myself," said Tamisat, who also has a 4-year-old son. "People can look at us and think we're OK, but we are in great danger. We have nothing."
Despite the crisis confronting Tamisat and millions of other Ethiopians lacking food and drinking water, a world caught up in strife is paying insufficient attention to their plight, because it is distracted by other urgent needs.
The government and the United Nations are trying to raise $1.4 billion to feed 10.2 million Ethiopians, but only half has come through so far, as the wars in Syria andYemen plus the migrant crisis dominate the news.
"Fundraising for this response has been very slow," said Chege Ngugi, national director of the charity ChildFund Ethiopia. "My priority is to support the efforts of the government of Ethiopia to save lives, but we're not reaching everybody."
A strong El Nino has blocked two consecutive rainy seasons that normally nourish crops that feed 85% of the country. The drought has forced the government to find additional food aid from the United States and other donors.
The U.S. Agency for International Development dispatched an response team to Ethiopia to provide emergency assistance that includes nearly $4 million in corn and wheat seeds for more than 200,000 families.